Healthy and Bright Skin with Dermaster Skincare
Assalamu'alaikum.
Halo, beauty lovers!
Having a healthy and glowing face has become a dream of many women, including me. Especially if the age has entered the head of three or four, it seems the need for skincare is increasing. Isn't that right mom?

As we get older, our skin will certainly be more vulnerable to sagging and appearing signs of aging, such as wrinkles. Especially if we are often outside the house and exposed to sunlight and pollution, the skin will quickly look dull. Now, to maintain the health of our skin, especially facial skin, we need to use skincare that can prevent the emergence of these problems, while keeping our skin looking healthy and youthful.
Recently I got the chance from
Clozette Indonesia
to try and review a range of skincare products released by one of the beauty clinics that is believed to have
the best aesthetic doctors in Indonesia
. Especially if it's not
Dermaster Clinic
. The clinic that is often a subscription for this artist issued facial care products designed to overcome several skin problems including Dermaster Acne Series for acne prone skin care, Dermaster Whitening Series to deal with pigmentation on the face, and Dermaster Anti Aging Series to overcome the problem of aging.
I happened to be asked to review three products from its two skincare series, namely Dermaster Oil to Foam, Dermaster Anti Wrinkle Serum and Dermaster White Glow. I have tried all three products for a week. Intrigued by the changes that occur with my facial skin? Come on, read the one-on-one review huh!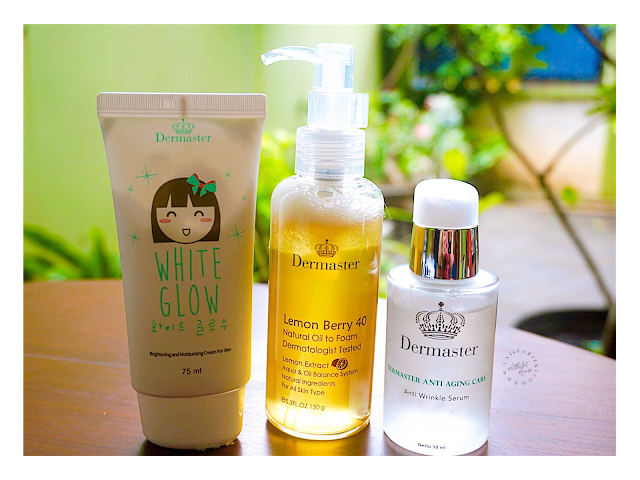 DERMASTER OIL TO FOAM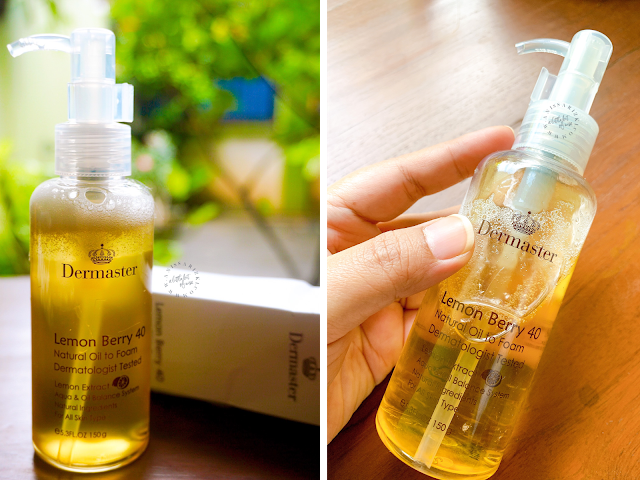 This product is not just any facial cleansing soap, you know! Dermaster Oil to Foam is a 2 in 1 cleansing oil that not only cleans your face but also instantly makes-up remover. So, we don't need to bother anymore to spend a lot of products to do double cleansing every day, because everything can be done using only one cleaning product. It's cool, right? Well, the more champion again, cleansing oil is able to lift all types of make-up / cosmetic products used on the face all day, including waterproof cosmetics. Dermaster Oil to Foamalso contains 40% lemon extract which helps brighten the skin. Really love, right?
How to Use

How to use it easy. Wet the face first and then press the bottle 2-3 times until the liquid comes out. After being given water and gently rubbed, the cleansing oil liquid will immediately turn into foam. Apply cleansing foam to all parts of the face (except the eyes) while gently rubbing, then rinse the face thoroughly.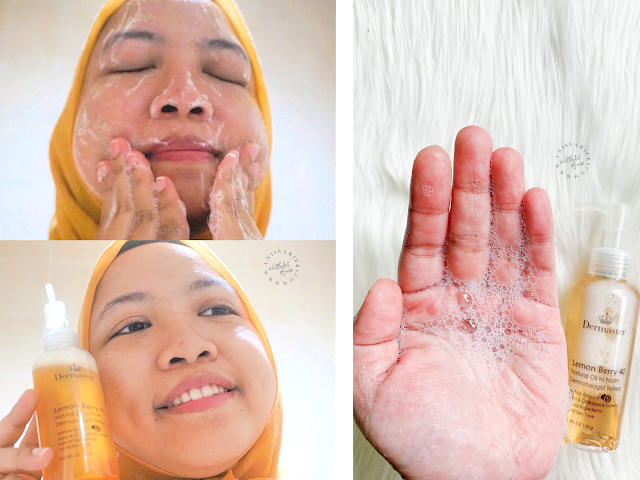 Review
The first time I felt after one use was the abrasive effect that was obtained after cleansing the face, but it didn't really make the skin dry, you know! Afterwards the skin feels very clean and moist. The texture of the cleansing oil is also not really oily. I can hardly even believe that this product can really effectively clean up all the remnants of make-up that I have used all day. In addition, my skin is also not easily spotty, so cleansing oil is safe for sensitive skin like me. Just unfortunately, maybe the fragrance is a bit weird because I smell more lemongrass than lemons, but so far I still like it because the fragrance isn't too excessive.
DERMASTER ANTI WRINKLE SERUM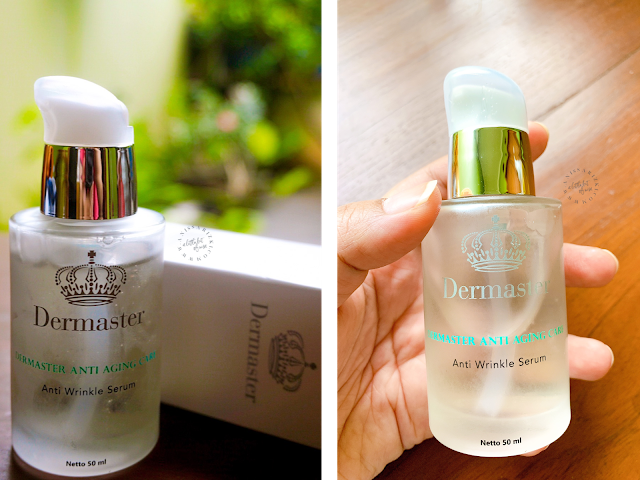 The second product that I tried was Dermaster Anti Wrinkle Serum. Yeaay, honestly I am very happy to get this product because I am looking for a serum that can help me overcome fine wrinkles that begin to appear in my 30s, especially wrinkles around my eyes, forehead and smile lines. Plus the skin begins to sag and not tight anymore. Ah, noooo!

Fortunately Dermaster can answer my needs and get this product out. Dermaster Anti Wrinkle Serum is an Anti Aging Series product that functions not only to reduce wrinkles on the face and maintain skin elasticity, but also to maintain moisture.
How to Use
The most effective way to apply serum on our face is by tapping serum to all parts of the face. Remove 1-2 pump serum into the palm of your hand, then flatten the entire face by patting. After that, do gentle massage with circular movements on the face and let the serum permeate perfectly. Use serum in the morning and evening.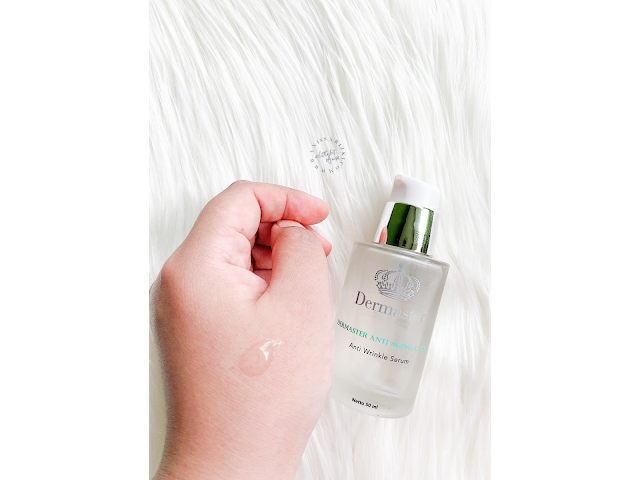 Review
If I look, the texture of this serum is not too liquid and not too thick. This serum also does not have fragrance that is too strong and disturbing so it is still comfortable to use. The advantage of this serum is that it absorbs quickly into the skin and doesn't make the skin sticky at all. Even after use, my skin feels so moist. What I prefer, this serum does not make my skin break-out, irritation or spotty after several days of use. Means that this product fits on my skin. Yeaay, more happy!
DERMASTER WHITE GLOW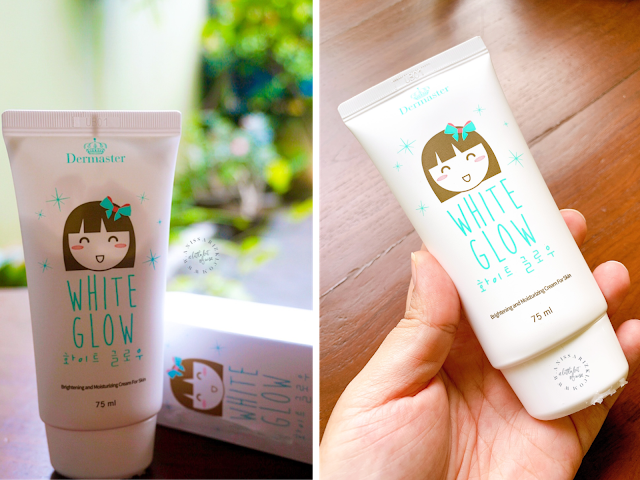 If skincare products were previously included in the Anti Aging Series series, what I will review below is one of the Whitening Series creams that works to instantly brighten the skin, namely Demaster White Glow. Ah, really, is that possible? Well, I'm also curious about the claims issued by Dermaster.

This product is said to cover the dark and pigmented skin, so it can brighten and even out skin tone instantly. Apparently because of the Niacinamide content found in the White Glow Dermaster cream. Not only that, this cream also has a moisturizing effect on the skin and can be used on the face and throughout the body.
How to Use
Apply enough cream in the palm of the hand, then apply to all parts of the desired face and body while pressing lightly to absorb. This cream can be used morning and night.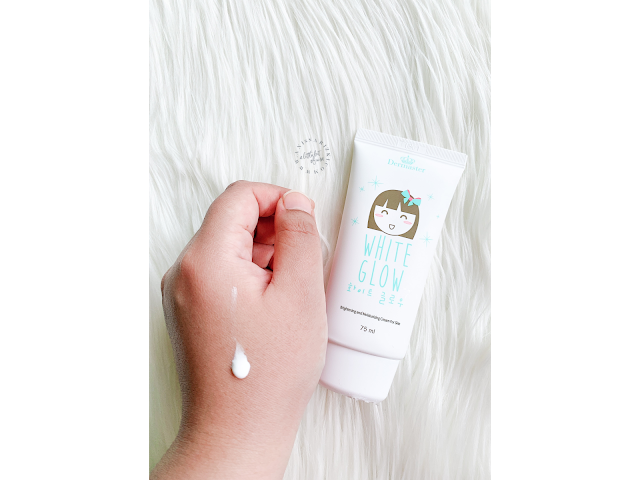 Review
So far I have only used this cream on the skin of the face (the problem is unfortunately if used throughout the body, he he he). Honestly, this cream is not sticky to the skin and is easily absorbed, so it doesn't leave a white cast at all. The skin is also instantly moisturized and looks brighter after use. In my opinion, this cream is suitable as a moisturizer. Only unfortunately, this product does not contain SPF, so you should use sunscreen after use in the morning.
Overall, I feel a change in my facial skin after seven days of regular use, including the texture of my skin getting better because it is smoother and my skin is also more moist. What looks a bit different again is the skin color that is getting more evenly distributed, and the acne scars are also fading. For the effect of brightening and removing wrinkles, it may take longer to use it. But so far, I like skincare products from Dermaster Clinic.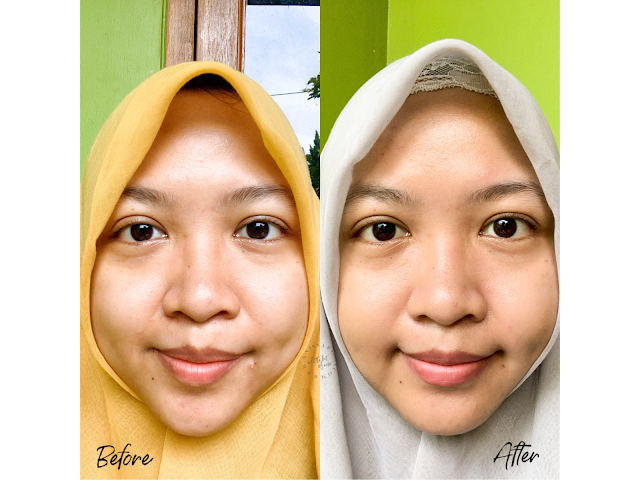 For those of you who are curious to try skincare products from Dermaster Clinic, you can check the information on the websitehttps://www.dermaster-indonesia.com/. Also follow the Instagram account at @dermaster_id. Or visit the Dermaster clinic directly in Jakarta, Manado, Makassar and Jayapura.

Hopefully this article is useful huh. See you in the next product review.